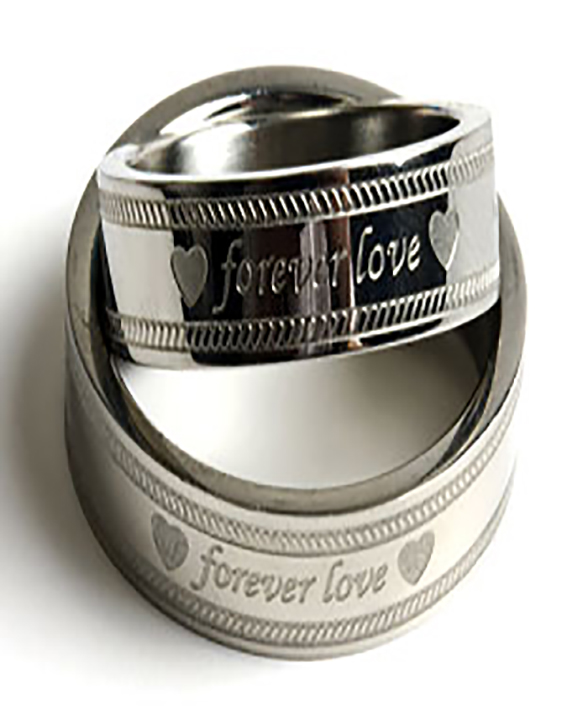 Diamond engravers is a specialist company offering exclusive services that include not only conventional diamond drag engraving but C02 laser , Fibre laser, MOPA laser, 3D laser, UV laser, CNC and a combination of smart engraving services including finishing, polishing, colour filling, flocking, electro-plating and ceramic coating.
The engraving services extend to most metals, including brass engraving, stainless steel, titanium, steel, aluminium, bronze, glassware incorporating crystal and green glass, plastics, wood and other composites.
With both flat and rotary capability, Diamond engravers can provide an all round service few can match, from CNC production, cutting services, drilling, bevelling and brazing for small signs, memorial plaques, nameplates, components and whole range of finished products for sport, business and the jewellery industry.
Engraving the inside and outside of rings, creation of designs on rings is available from etched to deep engraved finishes. Typically this is not just confined to text but ceative designs, logos and combinations of both.
Diamond engravers offers two types of engraving services, trade and retail. The retail service provides for the individual customer who wants small quantities or one off products engraved and the trade customer who requires a volume based service across the spectrum of services we provide.
If you would like to have your products engraved and require our services, please contact us for further information using the email above in the first instance and we will get back to you. our contact details are available on the contact section on our engraving services section in the menu above.
As a specialist company with dedicated engraving machinery, 3D laser technology and modelling software we are able us to provide customers with the right engraving solution for their application.